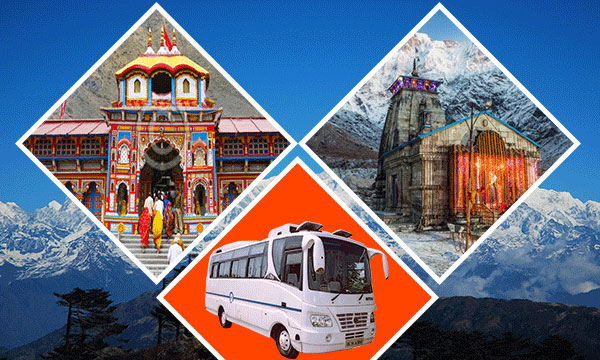 Do Dham (Kedarnath, Badrinath) Yatra Package
Via: Rishikesh - Kedarnath - Badrinath - Rishikesh
Transport : Non AC 2x2 (27 Seater) Non AC Bus
Price : Rs. 16200/Adult
Starting : Rishikesh
Reporting Place : Rishilok Tourist Complex, Muni-Ki-Reti, Rishikesh
Day 1: Muni ki Reti to Rampur – 205 Km by Bus
The tour starts from Muni Ki Reti as 06:30 AM. After Morning Tea, Breakfast at Kaudiyala, there will be a stop over to see the famous Raghunath Temple & confluence view of Alaknanda and Bhagirathi at Devprayag. There will be a lunch break of 1 hour from 01:00 PM to 02:00 Pm at Rudraprayag and to see confluence view of Alaknanda and Mandakini rivers. We will also provide visit to Ardhnarishwar temple at Guptkashi. The bus will reach at Rampur by evening 06:00 for dinner and night halt.
Day 2: Rampur to Kedarnath – 5 Km by bus & 17 Km by Trek
At 06:00 AM the tour starts after tea and reach Gaurikund by 07:00 Am where there is halt for breakfast and arrangements of Pony / Doli for trekking. By the evening reach to kedarnath temple for pooja / darshan / tea, with lunch enroute. Night halt and Dinner will be at kedarnath.
Tem: Min 04, Max 18
Day 3: Kedarnath to Tilwara – 17 Km Trek and 60 Km by Bus
After the morning pooja, tea, breakfast the trek down starts at 08:00 AM from kedarnath to gaurikund where there will be lunch halt by 02:00. The journey begins from here to Tilwara which 60 Km for dinner and night halt
Temp: Min 10, Max 35
Day 4: Tilwara to Badrinath – 165 Km By Bus
Early in the morning at 06:30 AM the tour starts after having tea and breakfast enroute, and will reach Joshimath by 12:00 Noon. The journey gives a halt for lunch break, and starts at 01:00 PM to Badrinath ji where there is only one way traffic and reach there by 03:00 PM for Pooja / Darshan / Aarti and night halt after dinner.
Temp: Min 5, Max 18
Day 5: Badrinath to Joshimath – 50 Km by Bus
After pooja / darshan there will be visit to Mana Village and the tour comes to halt at Joshimath by noon for lunch. After lunch one can visit Auli by Cable car on Payment Basis and come back to Joshiumath for Dinner and night halt.
Temp: Min 15, Max 35
Day 6: Joshimath to Muni Ki Reti – 255 KM by Bus
After Tea / Breakfast enroute the journey begins for rishikesh Muni ki reti. There will be lunch halt at Kaudiyala. By evening 05:00 tour concludes at Muni Ki Reti.