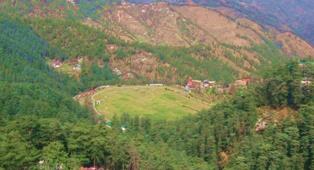 Intro - There is only one piece of land near Shimla that can be considered as Table Land. A lovely walk towards this wide open ground pulls you thorough some of the narrow streets, trails and old houses where you can have some glimpses of Shimla's typical lifestyle. People basking in the sun, ladies drying their laundry outside the house, washing clothes at public taps, children playing street cricket, a few shopkeepers busy with their daily customers and old men reading newspaper or just chatting. The walk begins with these scenes and takes you through a dense forest and finally ends at the grand gates of a huge lodge from where the entire subcontinent was once controlled
A visit to a chalet on the way near the Annandale Ground since converted into Army Heritage Museum is a must.
Timings - 9.30 AM - 12.30 PM.
Rates - Rs. 3000/- per day (For a group of upto 4 people), Extra person - Rs. 600/- each
A vehicle is required, AC Innova (if needed) Rs. 3500/-
Included : Water bottle, chocolate and a packet of chips for everyone, Not Include : Lunch
Advisory : Dress casually, wear sunglasses, and walking shoes. Do not forget to carry an umbrella and a raincoat during the monsoon.
Availability : This package is available throughout the year